DINNER (SIDE):

2X SLICES OF BREAD (200 CALORIES)
---
DAY 6
---
BREAKFAST:

3X SMOKED SALMON EGG MUFFINS (237 CALORIES)
---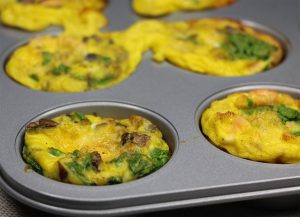 Similar to the spanish-style egg muffins shown above, these take very little time to make and can be done in large batches near the start of the week. Whether it's a breakfast meal or a midday snack, these are ideal.
---
SNACK:

2X VEGAN PROTEIN BALLS (444 CALORIES)
---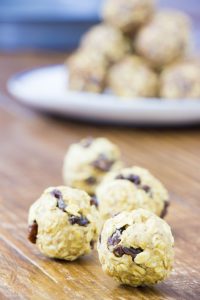 Focusing on getting your protein intake right is really important when you're following a pescetarian diet. These protein balls take a grand total of 10 minutes to make and will last you for a good couple of weeks to snack on when you're hungry.
---
LUNCH:

CURRIED BUTTERNUT SQUASH SOUP (223 CALORIES)
---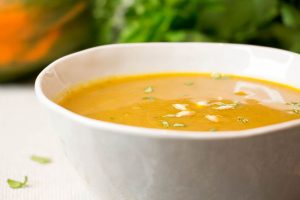 Soup is great for saving money because you can use up a bunch of vegetables that are about to go bad in the next few days (as opposed to seeing them go in the bin). We tend to eat soup near the end of the week for this reason, and curried soup in particular can work with all kinds of veggies.
---
DINNER:

TUNA PESTO PASTA (527 CALORIES)
---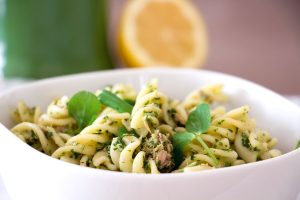 This is a classic pasta dish that involve minimal prep, ingredients and cooking time. Whilst we try not to eat too much pasta, it was hard to leave this one off the list.
View Recipe
---
DAY 7
---
BREAKFAST:

2X BLUEBERRY & LEMON MUFFINS (484 CALORIES)
---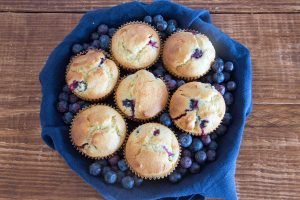 I can't think of many things that will go better with your morning coffe than a blueberry and lemon muffin. Depending on how greedy you're feeling you can go with either one or two muffins.
---
LUNCH:

UDON NOODLE SOUP (366 CALORIES)
---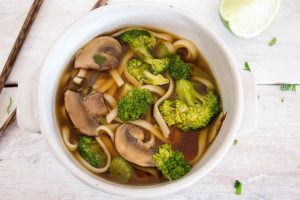 This pescetarian weight loss meal plan recipe looks more complicated than it actually is. Noodle soups in particular are packed ful of flavour and are the perfect way to fit in more iron into your diet.
---
DINNER:

SWEET & STICKY SALMON KEBABS (311 CALORIES)
---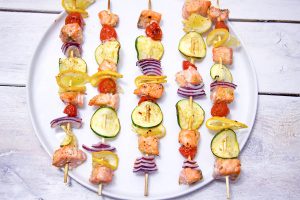 If you're having friends over then we'd highly recommend making these kebabs. Bonus points for barbecuing them. That said, broiling them will do just fine and they'll still taste amazing.
---
DINNER (SIDE):

4X CARROT HUMMUS CUCUMBER CUPS (382 CALORIES)
---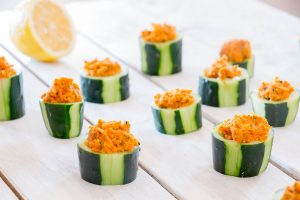 Carrot hummus is available in most grocery stores but if you want to go and make your own then it won't take you long at all. These cucumber cups are both adorable and a perfect compliment to salmon.
---
Pescetarian Weight Loss Meal Plan Grocery Lists
No meal plan would be complete without a grocery lists to follow. We'll make some assumptions here that you have a few storecupboard essentials, but by and large this shopping list will be able to make all the meals above and leave you with a ton of leftovers to make some meals for the following week. This will easily feed 2-3 people, maybe even four.
| Item | Quantity |
| --- | --- |
| almond milk | 1 pint |
| avocado | 3 |
| basil | 1 small bunch |
| blueberries | 1 small punnet |
| bread | 1 small loaf |
| broccoli | 1 |
| butter | 2 sticks |
| butternut squash | 1 |
| carrots | 2 lbs |
| cashew nuts | 0.5 cups |
| cauliflower | 2 |
| celery | 5 |
| cheddar | 0.5 lbs |
| chickpeas | 3 tins |
| chocolate chips | 6oz |
| chopped tomatoes | 1 tin |
| cilantro | 1 small bunch |
| coconut milk | 2 tins |
| cucumber | 2 |
| eggs | 24 |
| feta | 0.5 lbs |
| fusili pasta (fresh) | 1 lb |
| galangal | 3oz |
| garden peas | 6oz |
| garlic | 4 bulbs |
| ginger | 4oz |
| green beans | 6oz |
| green chili | 2 |
| honey | 4oz |
| kidney beans | 1 tin |
| lemon | 3 |
| lime | 1 |
| macaroni pasta | 0.5 lbs |
| mackerel fillet | 1 |
| milk | 1 pint |
| mixed peppers | 0.5 lbs |
| mushrooms | 0.5 lbs |
| onion | 1 lbs |
| parmesan | 5oz tub |
| parsley | 4 tbsp |
| peanut butter | 4 tbsps |
| pinto beans | 1 tin |
| protein powder | 4 tbsps |
| raisins | 4oz |
| red chili | 1 |
| red lentils | 1 cup |
| rolled oats | 2 cups |
| salmon | 2 small fillets |
| sardines | 0.5 lbs |
| scallions | 10 |
| shallots | 4 |
| spinach | 8oz |
| sweet potato | 2 |
| teriyaki sauce | 6oz |
| tilapia fillets | 2 |
| tomatoes | 4 lbs |
| tuna (tinned) | 2 |
| udon noodles | 6oz |
| white potatoes | 4 |
| zuchinni | 1 |