Pescetarian Diet For Weight Loss Plan
Hey pescans, l have another post for you guys today. Is about pescetarian diet for weight loss. The pescetarian diet for weight loss plan we have here will help you to maintain a lower body weight, lose fat not muscle.
Plan #1:
Breakfast: Green smoothie: 2 cups of spinach or kale, ½ avocado, 2 apples skinned, cored and sliced (I prefer green), 1 banana, add milk or almond milk until desired consistency.
Handful of fruit and nut trail mix.
Snack: Peanut butter and apple slices, limit 2 tbsp peanut butter
Lunch: Tuna melt (~4 oz.) on whole grain bread with light mayo, lettuce, tomato, and mozzarella cheese.
Side salad with red wine vinegar
Snack: 6 Cheese cubes and 15 multigrain crackers
Dinner: Bourbon-glazed salmon and ½ cup of white rice with baked zucchini and squash
Dessert: Popcorn drizzled with coconut oil and sea salt
---
Plan #2:
Snack: 1 whole fresh fruit with peanut butter, or yogurt, or peaches with cottage cheese
Brunch: Egg and salmon on English muffin With choice of fruit or side salad with vinaigrette
Snack: Hard-boiled egg with sea salt and pepper
Dinner: Seafood fettuccine, side of choice steamed veggies
Dessert: Banana ice cream (delicious!!)
Plan #3
---
BREAKFAST:

AVOCADO BAKED EGGS (468 CALORIES)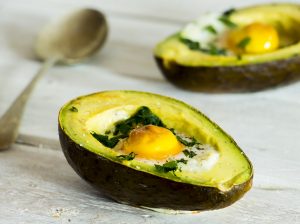 Avocado is the perfect morning meal. It's high in fat (good fat) and will set you up perfectly for the day ahead (way more than sugary cereal!).
LUNCH:

MORROCAN STUFFED SWEET POTATO SKINS (362 CALORIES)
---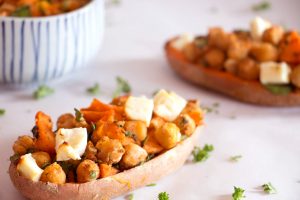 These can be made up the night before (or even a few days before) and stored in the refridgerator. They're packed full of protein and are really cheap to make.
---
DINNER:

THAI MASSAMAN CURRY (669 CALORIES)
---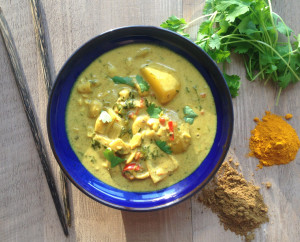 We eat a lot of Thai food because it's both really filling and really healthy. You don't even need to serve up a massaman curry with rice because the potatoes will more than fill you up.
---
Plan #4
BREAKFAST:

3X SPANISH EGG MUFFINS (309 CALORIES)
---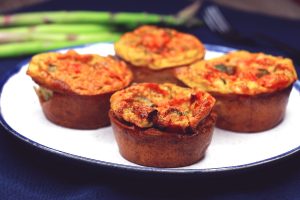 These egg muffins can be made in big batches at the start of the week and will last all the way through to the end. They're incredibly simple to make and you can add all kinds of different veggies depending on what you prefer. They also work as a great snack during the day.
---
LUNCH:

MAC N CHEESE (382 CALORIES)
---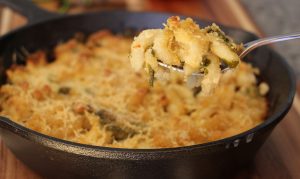 Who doesn't love mac n cheese? This recipe has cauliflower and spinach within it to boost the nutritional value. It'll definitely do the trick of keeping you full until the evening.
---
DINNER:

BAKED TILAPIA WITH PARMESAN CRUST (517 CALORIES)
---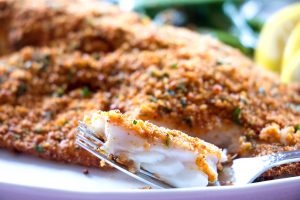 Tilapia is probably one of the most cost-effective fish to purchase in your weekly shop. It helps that it's absolutely delicious, too. This recipe in particular is very easy to make and goes really well with each a serving of rice, quinoa, cous cous or even a side-salad.
---
DINNER (SIDE)

: BOWL OF RICE (205 CALORIES)
---
Plan #5
---
BREAKFAST:

HUEVOS RANCHEROS (149 CALORIES)
---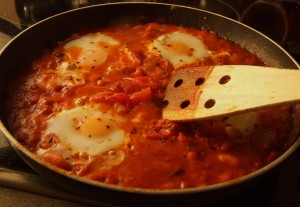 One batch of huevos rancheros will get you through a whole week, and it also doubles up as a great lunch meal. It stores well in the refridgerator and a 60-second blast in the microwave will get it heated back up to perfection (so you don't need to worry about cooking in the morning!).
---
SNACK:

CHOCOLATE PEANUT BUTTER PROTEIN BALL (421 CALORIES)
---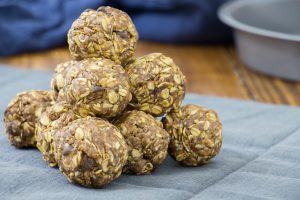 Focusing on getting your protein intake right is really important when you're following a pescetarian diet. These protein balls take a grand total of 10 minutes to make and will last you for a good couple of weeks to snack on when you're hungry.
---
LUNCH:

MACKEREL & GREEN BEAN SALAD (408 CALORIES)
---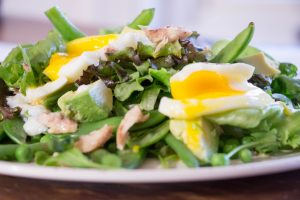 Possibly my favorite salad to take into the office for lunch, the runny eggs create a delicious dressing and the nutritional value from the mackerel alone gives you 52% of your daily protein intake.
DINNER:

TERIYAKI STIR FRY (293 CALORIES)
---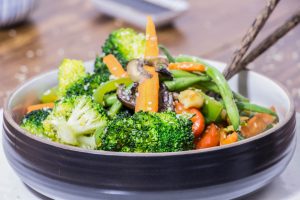 When you're eating pescetarian, there's a strong tendancy to default to fish and seafood every night. This can work out really expensive, so simply vegetarian meals like this will help balance your diet and your budget!
If you enjoy the pescetarian diet for weight loss plan post, share it with your friends on facebook and pinterest.