16. Cooling Peach Mint Water
When it is hot outside, and I mean HOT you need something that will cool you off, Mint does just that! Plus water naturally cools you off, like free air conditioning, and suppresses your appetite to help you lose weight just like the peaches in this recipe. Can you think of anything better than to sit outside reading a book with some Peach Mint water? I feel relaxed just thinking about it.
This combo is light and refreshing, if you prefer it sweeter drop a couple of peach slices into your cup it really intensifies the peach flavor, you can also add a splash of vanilla to add sweetness to the pitcher as well. I use frozen peaches, the slicing, pitting, and removing of the skins is too labor-intensive for me, if you choose to use fresh peaches do all that, place in a bag, and freeze before making this.
Makes 1 pitcher refill up to 8 times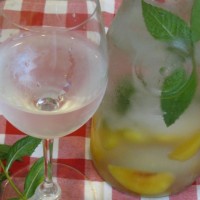 1 long sprig of Mint, or a handful of leaves you can tie together with kitchen twine
10 frozen Peach Slices, plus more to garnish (optional)
Water and Ice
I found that leaving the mint leaves on the sprig was easier and I got less debris in my drink that way too. Drop peaches in your pitcher, then the mint, top with ice and water, and place in the fridge for 4 hours or overnight. Serve in a wine glass*, garnish with a frozen peach slice (also acts as an ice cube) you can refill the pitcher up to 8 times, or until the flavor dissipates.
* I use this trick often, I place my water in a pretty wine glass or in my fancy Stella glass. If you try this you might just trick yourself into thinking you are indulging. My favorite thing to do it put fizzy water in my Tiffany Champagne Flutes, I feel like I am having my all-time favorite drink but it is zero calories and good for me.
17. Day Spa Apple Cinnamon Water
Did you know both apples and cinnamon raise your metabolism? Try this now-famous Apple Cinnamon Water drink, and any day can feel like fall.
Fuji and Honey Crisp apples work best as they are the sweetest. Keep in mind this drink has a hint of flavor, should you want it stronger add more apples or slice them thinner.
The Original Day Spa Apple Cinnamon Water Recipe was created by Audrey Johns, founder of LoseWeightbyEating.com and author of this website.
Makes 2 liters, re-fill water 3-4 times before replacing apples and cinnamon.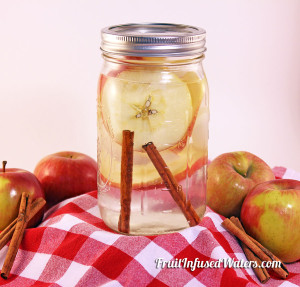 INGREDIENTS:
1 Apple thinly sliced, I like Fuji but pick your favorite
1 Cinnamon Stick
DIRECTIONS:
Drop apple slices in the bottom of the pitcher (save a few to drop in your glass later) and then the cinnamon stick, cover with ice about 1/2 way through then with water. Place in the fridge for 1 hour before serving.
LASTS FOR 24 HOURS IN THE FRIDGE.
18. Strawberry and Tangerine Fruit Infused Water
Fruits that are high in Vitamin C are big metabolism boosters! One of my favorite combos is Strawberry and Tangerine Fruit Infused Water, both hot and cold this is a delicious drink.
Try to drink a gallon a day for fast weight loss, all of my zero-calorie drinks count in the "gallon a day," as does good old fashioned water. Just stay away from the chemical powders and drops, use what's from nature to lose weight.
I recently came across dried strawberries, which means I can have this all year long but if you can't find them don't fret, just slice fresh or frozen strawberries and plan on using a fine-mesh sieve, coffee filter, or tea bag as they might fall apart.
Makes 1 pot of tea or 1 liter of cold drink-
Ingredients
1/2 cup dried or fresh sliced strawberries
The rind of one tangerine- try to get little to none of the white pith-
Water
There are three ways to make Strawberry and Tangerine Fruit Infused Water, put it all in the teapot, or make individual cups. It all depends on your willingness to wash your teapot. I have also included a cold version of this delicious drink.
Teapot instructions- Place the tangerine rind and strawberries into a teapot, cover with water and bring to a boil. To serve cover the nose of your teapot with a coffee filter or use a fine-mesh sieve over your teacup to avoid strawberry pulp.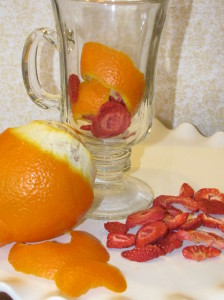 Individual tea cups- Boil water, add in 1/4 of the rind and a tablespoon of dried strawberries. Allow the strawberries to plump up and just as they start to fall apart (about 3 minutes) use a fork to scoop them out and discard them. Leave the rind in the teacup for both added flavor and beauty.
Make it cold- Boil 3 cups (or as much as your teapot will hold) of water making the "tea pot instructions" let it cool with the fruit left in then strain into a 1-liter jug discarding the strawberries. Top with water until it is full, pluck out the tangerine rind, rinse and add to your pitcher then place in the fridge to cool. Serve over ice and drink up. If you want to do a bigger batch just double the recipe.
Nutritional Info for Strawberry and Tangerine Fruit Infused Water:
Calories: 0
Fat: 0
Fiber: 0
Protein: 0
Carbs: 0
19. Honeydew Mojito Workout Water
This vitamin C-rich Honeydew Mojito Workout Water is sure to keep your metabolism going strong. In addition, the mint will help cool you down after a hot workout.
Make this Honeydew Mojito Workout Water in a water bottle and take it with you!
Makes one 1 liter water bottle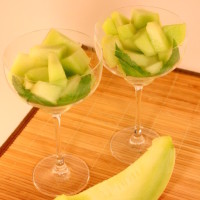 Ingredients:
4 mint leaves
½ cup honeydew melon, sliced into sticks
½ lime, thinly sliced into rings or stick
If the bottle is full, pour out some water to make room for the fruit. If empty, add the fruit first. Add the mint, squeezing the leaves slightly to release the oils. Next, add the melon chunks. Curl up lime rings to fit into the mouth of the bottle. Top with water and place in the refrigerator for 30 minutes. Refill with water when the mixture is halfway consumed. You can refill the bottle 3-5 times before replacing fruit.
*A note on the water bottle method: You may not be able to get the ingredients out if you use a traditional water bottle. For re-use, I recommend using a water bottle with a wide mouth for easier extraction of ingredients.
Recommended reading: 18 Healthy Ways To Lose Weight Fast
If you enjoy the 19 amazing infused water recipes for weight loss posts, share them with your friends on Facebook and Pinterest.