10. Fall Fruit Infused Water with Pears, Cranberries, and Clementines
Fall is in the air. Trees are changing, the air is getting cooler, new TV episodes are on, and football is back. In honor of my favorite season, I have created this delicious Fall fruit infused water to drink!
This unique recipe is so delicious and refreshing. It has a bite from the allspice berries which is then mellowed by the sweetness of the pears and clementines. It's not your typical "pumpkin-spice-flavored" Fall drink.YUM! I love this drink!
Questions about Clementines? They are just like tangerines and also called Cuties but you could easily replace them with a juicy orange or blood orange for extra color.
Makes 1 pitcher, refill 3-5 times until flavor dissipates.
Ingredients: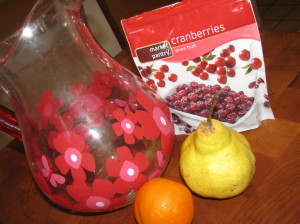 1 Pear thinly sliced
1 Clementine Orange cut into 8ths
1 tbsp. Dried Cranberries
1 tsp. All Spice Berries (look like peppercorns)
Instruction:
Top w/ 1.5 cups ice and then fill up with water and let sit 3 hours in the fridge before drinking. The key here is to slice your fruit as thinly as you can so that you get the most flavor. If you want sweeter add an apple and another orange.
This will last in the fridge for 24-48 hours.
11. Ginger Orange Fruit Infused Water
Ginger Orange Fruit Infused Water not only boosts your metabolism, but it also is packed full of vitamin C to help you fight a cold. Plus the ginger helps with tummy aches, talk about power water!!
If you're looking to lose weight or get healthy, but don't know where to start I've got your answer. WATER! Put down the sodas, the fake flavor packets, and chemical packed additives, and just drink good clean water. "But I don't like the taste," you say? That's OK, this drink is meant to help you put down the chemicals and go all-natural using delicious additives from nature.
The following recipe makes 1 liter, so if you have a 2-liter container double the ingredients, and so on.
Ingredients:
½ orange
1-inch chunk of ginger
½ cup ice
Instruction:
Remove the skin from the ginger with a spoon or vegetable grater and slice into coin-sized rings. Add to the bottom of your pitcher.
Slice the orange into wedges or rings and add to your pitcher gently squeezing (just a little) to help release the juices as it sets.
Top with ice, this part is important whether you enjoy your water cold or at room temperature as it holds down the fruit to better infuse the water.
Place the pitcher in the fridge, or on your countertop if you like room temperature, for one hour before serving.
When you have poured ½ of the infused water from your pitcher, fill back to the top with water. This will help preserve the flavor so you won't have to start over again when you finish the pitcher. Fill up, up to 6 times in a day, or until the flavor is lost.
Store in your fridge for up to 24 hours.
12. Day Spa Mango and Basil Water
l love Basil and use it in everything, it was just a matter of time before I put this Day Spa Mango and Basil Water together. It's delicious, is a natural anti-inflammatory, and has natural antibiotic properties. Along with an overly sweet fruit like a mango this water is well-balanced and delicious.
Mangos aid in digestion, boost your memory, and increases your sex drive! Do I have your attention now? Try this out, besides being incredibly good for you, it is delicious and will help you drink more water.
Makes one big pitcher of water, can be refilled 4-6 times before replacing fruit and herbs –
Ingredients:
1 Large Ripe Mango
Large handful of Basil- about 8 large leafs
Instruction:
In a large clean pitcher rip the basil in half (always rip basil, never use a knife it will brown the herb) and toss in, slice the mango into large chunks and toss in. Cover the fruit and herbs with ice and then add water, place in the fridge for at least an hour before serving for maximum deliciousness. I drank this all evening, about 3 re-fills, and then left it in the fridge overnight, it was so yummy the next morning.
If you enjoy the 20 Best Infused Water For Weight Loss Recipes post, share it with your friends on Facebook and Pinterest.